Smart solutions for your furniture
There's a way to say goodbye to keys once and for all without neglecting security and we in OMR have found it!
We thought of you, your office furniture, the lockers in your library, your filing cabinet, wardrobe and much more. Wouldn't it be convenient to tick the key management off the to-do list?
We also thought of you, final user: you won't add another key to your bunch, which already looks like the bunch of keys of the Central Park keeper.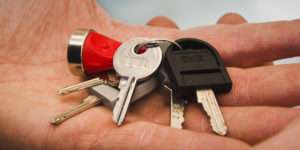 This is the main goal of our plug-and-play electronic locks: HELLOCK and OLED or TOUCHPAD combination locks, so different and so similar. To install both of them, you'll just need to remove the old lock, withour replacing the door or the locker, wiring or drilling new holes. Install it in the existing fixing hole and it's done!
HELLOCK, the smallest electronic lock on the market embedding a CPU, allows you to smartly lock and unlock furniture, lockers and chests of drawers of any kind and material, no matter the opening mechanism they feature: hinged doors, sliding doors and espagnolette locks. It is available in the vertical and horizontal version, with black or white finish and, thanks to our wide range of accessories, you can install it wherever you want.
Many different technologies are available: PIN code, RFID to open with cards, bracelets or key rings, NFC to open with the purposedly developed smartphone App, Bluetooth and HSC to use the lock with a code generated by our cloud servers.
You just need to remember to replace the button cell battery once every 10 years!!!
Long-lasting technology and security.
If you are faithful to the traditional combination locks but you wish an upgrade in terms of security, technology and appearance, the OLED and Touchpad combination locks do the trick! Scroll with your finger just like you do on your smartphone to insert the combination or just dial it on the screen.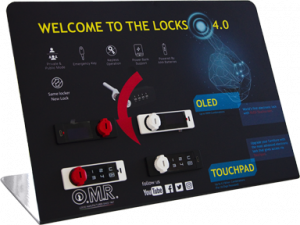 The world of locks is up-to-date, what about you?