Automatic and resistant, we present you the new entry in OMR.
Tumbler camlock with notched cam and automatic locking for bicycle racks.
The OMR technical and design department is always working to find innovative solutions to meet our customers' needs, and today we want to talk about a small universal tumbler lock we have designed for a "universal luggage rack" system for transporting skis, bicycles and other accessories.
It is no secret that doing sport and having a healthy lifestyle is the foundation for a long and happy life, and many people consider cycling and other outdoor sports as a real lifestyle. Whether it's road bike, mtb, downhill or gravel, it doesn't matter: the freedom and euphoria we feel when we're riding a bicycle is unparalleled – we finally feel far from the urban turmoil on our way to discover new and wonderful itineraries. How many of us are willing to leave sports equipment unattended and without any security, even just to go and get a coffee? This is where the need for safety comes from, to which we have responded with this tailor-made product.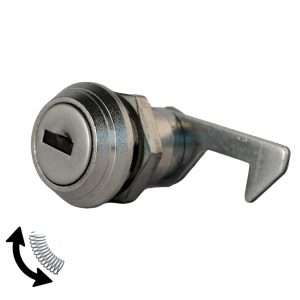 As with any respectable project, we start from the customer's needs: the lock must be easy to install and weatherproof, it must also offer a good level of security and long durability. It's designed with automatic locking so that when the bicycle rack – roof or rear – is closed, the spring lock will click with or without the key inserted, ensuring a good level of security even for the less careful.
The lock is therefore made of zamak, an alloy that combines the ductility of Zzinc with the strength of Aluminium and Magnesium, equipped with a stainless steel rotor cover, so as to ensure resistance to rain and mud, and a plastic patch cover to ensure long life to the internal mechanisms and protect them from dust and dirt. The key rotates with a 90 degrees angle, it can only be removed when in closing position and the encryption can be modulated according to the level of security to be guaranteed: KA, KD. Another interesting aspect of this camlock is the notched lever, created to perfectly match the locking mechanism designed by the manufacturer.
This versatile, resistant and compact nimble lock is ready to be used in numerous industrial and craft applications.
OMR has been the perfect manufacturer of locks and locking systems for industries and OEMs for over 60 years: the quality of our Made in Italy locks, the complete management of the production cycle and the consequent reliability and attention to the customer, is our trademark.
Tell us about your projects and we will be happy to help you make them safer with effective solutions, made to meet every need.