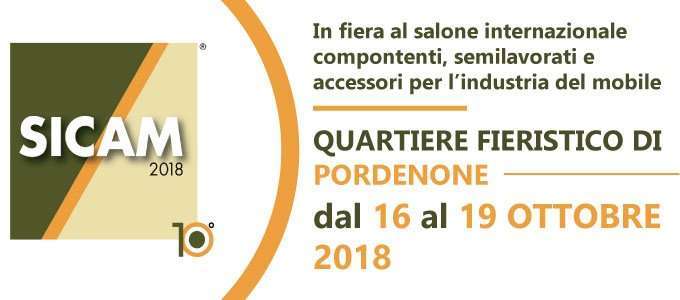 SICAM 2018 – Where supply and demand meet
One of the points of reference for all the players in the furniture supply chain is the SICAM exhibition, that is the international fair for components, semi-finished products and accessories for the furniture industry.
The fair with over 15,000 m2 of stands lends itself to be the ideal place for the meeting between supply and demand. The results of the last editions show that this reality tends to become more and more important, rich, but also of higher quality and completeness in the offer of accessories, components and materials.
The exhibition center is very well connected to the city by public transport and the train station is about 800 m away, and is also quickly reachable by car from the highway.
A free shuttle bus service is also available, connecting Venice's "Marco Polo" international airport with the exhibition center.
On the official website you will find more information and facilities to reach the SICAM. More information.
La fiera sarà accessibile per i visitatori da martedì 16 a Venerdì 19 con orario 9:30 – 18:00 è potrete incontrarci allo stand C23 nel Padiglione 1 con il nostro ampio catalogo, di oltre 1300 articoli.
Scoprirete le diverse tipologie di serrature per mobili (in legno o metallo), espositori, vetrinette, cassette gas, moto ed auto d'epoca, valvole gas o acqua, buche lettere e casellari postali, bauletti moto, porta sci, arredo urbano o manufatti di carpenteria metallica.
The many products, for example for the furniture sector, are able to satisfy all needs whether it be sliding or hinged doors, drawers or dressers, classifiers or filing cabinets, drop-leaf doors or rolling shutters.
You just have to come and visit us to touch&feel all the solutions and news on the world of locks and locking systems.
Our complete range will allow you to close any compartment, be it in wood or in metal, in glass or Plexiglas.